ANIMAL RESCUE AND ADOPTION TEAM INC.
FIV Facts
FIV: Catching a Bad Case of Rumors
This is Bob. When cats like Bob are diagnosed with FIV, nobody wants them. You'd think they were an unexploded bomb or an X-rated movie. Make that FIV-rated.
People are always surprised to see how healthy many FIV cats like Bob are. But that's the way most of them are!! Despite what many people think, cats with FIV can live perfectly long, happy, healthy, normal lives. Just like Bob!!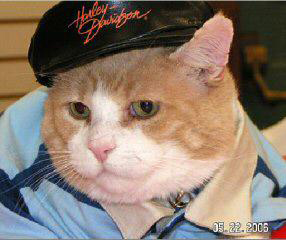 THERE'S ABSOLUTELY NO REASON WHY FIV CATS SHOULDN'T HAVE A CHANCE
But some of these cats have a misunderstood and wrongly-feared autoimmune disease called FIV or feline immunodeficiency virus. FIV progresses very slowly, gradually affecting a cat's immune system. FIV-positive cats can live healthy, happy lives for many years when properly cared for. They can even live with the other healthy cats with very little risk of spreading the disease.
MANY FIV CATS LIVE LONG, HEALTHY LIVES AND NEVER SUFFER ANY ILL EFFECTS
It is impossible to accurately predict the life expectancy of a cat with FIV. FIV-positive cats have tested positive for the virus but the virus is not necessarily active. If the cat is young and healthy, it could be completely symptom free for several years. As long as cats with FIV are not exposed to diseases that their immune system can't handle, they can live perfectly normal lives.

• FIV is a slow virus that affects a cat's immune system over a period of years. FIV cats most often live long, healthy, and relatively normal lives with no symptoms at all. If the cat is young and healthy, it could be years before anything changes.
• It is important to keep their immune systems healthy. Make sure their vaccinations are up-to-date vaccinations, keep them indoors, feed them a high-quality diet, and seek veterinary treatment at the first sign of illness. There is currently a vaccine available for FIV, but you and your veterinarian should decide together whether or not to vaccinate your cat.
• FIV is a cats-only infection and is not transmissible to humans, dogs, or other non-felines. There is no threat to families even if an infected cat scratches you.
• FIV is not easily passed between cats. It cannot be spread casually – like in litter boxes, water and food bowls, or when snuggling and playing. It is rarely spread from a mother to her kittens.
• FIV can only be passed on to other cats through a serious, penetrating bite wound. So unless your cats at home routinely tear each other to pieces, it's not a problem. (And if your cats are tearing each other up, that's probably a bigger problem!)
• Cat-to-cat transmission in multiple-cat households where there is no fighting among cats appears to be quite uncommon. If properly introduced, you can safely keep an FIV-positive cat with FIV-negative cats if the cats get along well together. Careful monitoring of the cats' behavior and minimizing the likelihood of fights is recommended.
HELP SHATTER THE MYTH THAT FIV CATS ARE UNADOPTABLE
Cats with FIV are all hoping for a hero – someone to love them. And every day, there are people out there who heed the call. Given the opportunity, their potential to change your life is unlimited! If you can find room in your heart and your home to adopt one please contact HEART to learn how you can bring one of these amazing cats into your life.
Heart Animal Rescue and Adoption Team Inc.
206 Lake Street, Hamburg
Hamburg, NY  14075
Phone:  716-821-1915
©2018 HEART Animal Rescue and Adoption Team Inc.
All rights reserved - No text or images can be used from this site without permission
Website Hosting provided by SM Digital Creations - 716-254-6130.