ANIMAL RESCUE AND ADOPTION TEAM INC.
Barn Buddy Program
Got Mice??…  Get a Barn Buddy?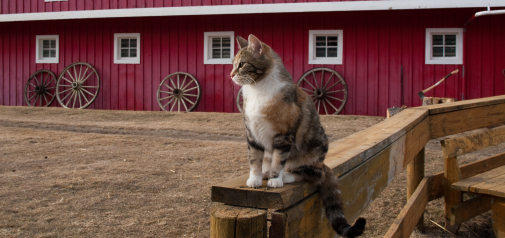 RODENT CONTROL TECHNICIANS WILL DO CHORES IN EXCHANGE FOR ROOM AND BOARD
Sometimes HEART rescues cats that, for various reasons, cannot live as indoor companion pets. These cats become part of our Barn Buddy Program and are in desperate need of a home on a farm, horse stable, warehouse, or other suitable outdoor location. Cats in our Barn Buddy Program have no other options. This program offers them a chance at a safe life that is best for them.
Candidates in our Barn Buddy Program include:
Friendly cats with litter-box issues, making them unsuitable for house life
Friendly cats who are too independent or too high energy, making their house behavior unsuitable
Friendly cats that have spent their life outdoors and can't adapt to indoor life
Semi-feral adults too shy and fearful of people who much prefer the company of other cats and animals
Feral cats who must be relocated due to the unsafe nature of their original areas
We consider our Barn Buddies to be "outside pets". They ARE NOT just turned loose to live off the land. These cats will depend on you for basic care for their overall health. Their welfare is our foremost consideration and we work hard to find qualified barn homes for Barn Buddy cats. We consider the adoption of a Barn Buddy to be a life-long commitment of time, affection, and responsibility.
Prior to any adoption an adoption application is required. A HEART volunteer will inspect the proposed location to ensure it will provide a safe and suitable environment. There is no adoption fee but a donation is requested. All Barn Buddies go to their homes spayed or neutered, have been tested for FIV and feline leukemia, and are current on rabies and distemper vaccinations.
Barn Buddies must be adopted during the spring, summer or early fall so they have sufficient time to develop the extra layers of fat and fur needed for outdoor life during the winter. We will place a Barn Buddy in the winter months only under the proper circumstances (for example, if the barn is heated).
We ask that you take two or more Barn Buddies because they provide each other with companionship and snuggle together to keep warm. Placing two or more cats together helps to ensure a successful transition. Having lived as members of a colony, they really need the company of other cats – this will help them accept their new home. If you already have other barn cats, don't worry. They will gradually become acquainted with each other during the initial confinement period, so your other cats won't regard them as strangers when they are finally released.
What we require for our Barn Buddy Adoptions
When your first adopt a Barn Buddy you must confine them for one month until they become accustomed to you (their caregiver) and their surroundings. The sounds and the scents of their new home will be foreign to these cats until they settle in. Just think about being put someplace where you have never been, with people you have never known!! Your Barn Buddy will learn to trust you, their caregiver. This process takes about one month.
Barn Buddies must be provided with daily food and fresh water (cats cannot live on mousing alone). Heated water bowls for winter months are available at feed and pet supply stores.
Cats must have access to adequate warm shelter and a safe, dry bed.
Care must also be taken to keep the cats from harm, including aggressive dogs and predators.
Barn Buddies need human companionship and other animals for companionship
Veterinary Care (if you adopt a semi-feral barn cat, you will probably not be able to touch them during their lifetime. If you find one has been injured or is in need of medical attention, please contact us immediately). Friendly cats will need to stay current on vaccines – at least a booster one year from adoption, and every three years after that.
If you are away from home for more than a few days, you will need to arrange for someone to provide the cats with food and fresh water. If you must move, please notify us if you need help relocating the cats to your new home or to another location if you cannot keep them.
HEART will provide:
Sterilization and vaccinations prior to adoption
Delivery by trained Barn Buddy volunteer
Protocol for a safe, successful relocation
We maintain a waiting list, as our supply of suitable Barn Buddies fluctuates. If you are a barn or stable owner who can offer a safe haven to a pair of Barn Buddies please contact us for more information.
Heart Animal Rescue and Adoption Team Inc.
206 Lake Street, Hamburg
Hamburg, NY  14075
Phone:  716-821-1915
©2018 HEART Animal Rescue and Adoption Team Inc.
All rights reserved - No text or images can be used from this site without permission
Website Hosting provided by SM Digital Creations - 716-254-6130.