ANIMAL RESCUE AND ADOPTION TEAM INC.
YOU CAN'T DECLAW WITH LOVE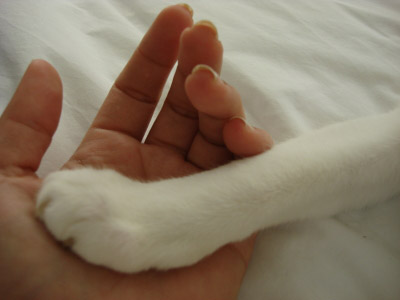 CATS, CLAWS & CRUELTY
Claws are one of a cat's most valuable assets. All cats use their claws practically every day of their life. Cats use their claws for scratching, climbing, balance, defense, playing, kneading, and even self-expression. From a cat's point of view, claws are not optional. Claws are an integral part of a cat's "catness." No cat wants to be declawed.
In the U.S. we've turned unnecessary amputation, done for the convenience of humans, into something routine. The painful procedure of cat declawing is regarded as so inhumane that it is illegal in many countries around the world, including Austria, Belgium, Bulgaria, Croatia, Cyprus, Czech Republic, Denmark, Finland, France, Germany, Greece, Israel, Lithuania, Luxembourg, Malta, Norway, Portugal, Romania, Sweden, Switzerland, Turkey, and the United Kingdom.
Clipping your cat's claws really makes a difference. If claws are kept blunt, a cat that strays from the scratching post from time to time will do little to no damage. You can get results without painful declaw surgery by cutting the nails every two to six weeks.
If one truly loves felines, then one accepts that claws come as standard equipment. Using surgery to prevent or correct a behavioral problem is not the wisest, kindest, or best solution.
CAT DECLAWING IS A MUTILATING SURGERY
The animal's toes are amputated at the last joint. A portion of the bone – not only the nail — is removed. Declawing is the equivalent to a person losing the entire tip of every finger at the first knuckle. De-claw surgery is VERY PAINFUL and after the surgical wounds have healed there are often permanent physical and psychological complications.
POTENTIAL COMPLICATIONS
There's a reason many declawed cats end up in shelters and have more behavior problems!! Many cats undergo a drastic change after surgery. As many people discover too late, declawing may cause far worse problems than it solves.
PAIN
The post-surgical pain cats suffer is obviously severe, but it's impossible to know how much pain and suffering declawing causes. Declawing is 10-18 separate amputations, so it's not unreasonable to believe that declawed cats experience life-long, painful phantom sensations in the amputated parts. Cats typically conceal pain until it becomes unbearable. With chronic pain, they simply learn to live with it. Their behavior may appear normal, but a lack of signs of pain does not mean they are pain-free.
POST-SURGICAL COMPLICATION
Lameness, abscesses, and regrowth of the claw can occur after surgery. About 25% of cats will develop complications from declaw surgeries.
LITTER BOX PROBLEMS
Declawed cats have more litter box avoidance problems than clawed cats. It is not uncommon for declawed cat owners to trade claws for urine-soaked carpeting. In one survey, 95% of calls about declawed cats related to litter box problems.
JOINT STIFFNESS
The tendons that control the toe joints retract after surgery, and over time joints become "frozen." The toes can no longer be extended, but remain fully contracted for the lifetime of the cat.
ARTHRITIS
Newly declawed cats shift their body weight backward onto the large central pad of the front feet and off the toes. If this altered gait persists over time, it causes stress on the leg joints & spine, and could lead to arthritic changes in multiple joints.
BITING
Deprived of claws, a cat may turn to its only other line of defense — its teeth.
DEATH!!
There is always a small but real risk of death from general anesthesia as well as from hemorrhage or other surgical complications.
THINKING OF GETTING YOUR CAT DECLAWED?
WORDS FROM A VETERINARY TECHNICIAN.
Before you make an irreversible decision, let me talk to you a little first. "Who is this person?" you are probably asking yourself. I'm the person who will greet you and Fluffy when you step in the door on the day of Fluffy's surgery. I'm the veterinary technician.
If you really want to know how things truly are back in the OR, I'm the one who's got the skinny. I'll be taking care of Fluffy before, during, and after his "mutilation" (or surgery as we like to call it). Let me tell you my story….
I get to work around 8:00 and check on all our patients. I have to get the clinic in working order so we can begin checking in the surgery patients at 8:30. You are the first client here. We fill out the paperwork and you hand me Fluffy and say "I'll be back tomorrow Fluf. Don't worry!" Then you head out the door, get in your car and go wherever it is you are going.
I weigh Fluffy and make him comfortable in his cage. Around 2:00 or so, Fluffy's time has come. He gets some anesthesia and some pain medicine and he's out like a light.
I shave between all of his toes and scrub them clean. I have everything ready: the nail clippers, hemostats, glue, tape, bandage.
It's show time. I hold up one of Fluffy's feet and the doc begins: The procedure is sort of a half pull, half cut kinda thing. The nail clippers are doing their best to saw through the joint while the hemostats are ripping it away. And please make no mistake here, this isn't a nail trim. A cat's first joint, just like on your finger, is being ripped out. Fluffy utters a half growl/meow of pain as the joint tears away, even after all this medicine.
THE PAIN MUST BE EXCRUCIATING!!
IT IS CERTAINLY A GRUESOME SPECTACLE TO WATCH.
Doc fills the gaping socket where Fluffy's toe used to be with some special glue and squeezes it together for a few seconds. We move on to the next toe until we're done. Now we bandage and when we're done Fluffy looks as though he's wearing little mittens…aww.
I come in the next morning and reach for the doorknob to the recovery room. "Crap!" I think, because the smell hits my brain before I even open the door to see.
Blood has a very specific odor, you see, and after a while you have the ability to recognize many things: parvo, cancer, bloody declaw cats that don't seem to like their mittens – all by their respective smells.
Sure enough, Fluffy got a head start on removing his bandages so I begin my day scrubbing his blood off the walls, the door, the floor, and his cage. I clean the blood off Fluffy's fur the best I can and begin to take off his bandages. I try so hard to be gentle but I know I still hurt.
I have to cut down the bandage until I'm right beside Fluffy's purple swollen toes and he cries. I examine each hole where Fluffy used to have claws and make sure they are all still sealed. They never are, of course. There is invariably at least one or two that must be reglued, so I sigh and get my glue. Then I drop some goo into Fluffy's socket and squeeze his tender and bruised deformed little toes together for several seconds. THIS HURTS. A LOT. And I feel like the scum of the earth. I clean the last bit of blood from Fluffy's feet as best I can without hurting too bad and hope that Fluffy will finish the job himself before you come.
You rush in on your lunch hour and I bring out Fluffy and remind you that Fluffy's feet are going to be very sore for a while. You already knew that…..bye Fluffy.
Three months later you bring Fluffy in to update his shots. You ask me why Fluffy doesn't seem like the cat he used to be anymore. He never wants to play or do much of anything. And he has turned into a biter! You don't understand, you tell me. Why isn't Fluffy the same? I don't know why.
As far as biting goes, this is a common "side effect". Cats with no claws have no other means of expressing dissatisfaction with their lot in life and resort to biting. Or maybe they are just mad at the world now. I don't know.
AND FINALLY, FOR THOSE WHO HAVE ATTEMPTED TO RATIONALIZE A DECLAW BY COMPARING IT TO A SPAY/NEUTER – YOU AREN'T EVEN IN THE SAME BALLPARK!!
A spay/neuter cat comes in just like Fluffy, but he doesn't cry during his surgery.
He gets to go home that very day while Fluffy must wait behind. He bounces and runs around the house that very night because he is so glad to be home. He doesn't even seem to notice that he will never be a dad.
Meanwhile Fluffy is getting a pain injection.
Heart Animal Rescue and Adoption Team Inc.
6580 Gowanda State Road, Hamburg
Hamburg, NY  14075
Phone:  716-821-1915
©2018 HEART Animal Rescue and Adoption Team Inc.
All rights reserved - No text or images can be used from this site without permission
Website Hosting provided by SM Digital Creations - 716-254-6130.